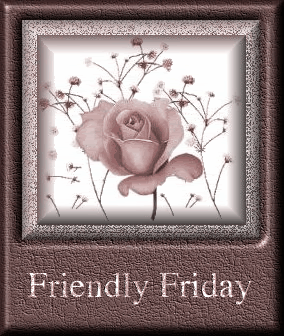 God tells us to love our neighbor as our self, what better way to show his love, than to be friendly, write some one a card or an e-card, or if you go out today, let some one know they are important to you, give them a hug. Perhaps treat them to lunch, just show them that you care, what ever you do, do it as if unto the lord, and do it with love from the heart.
Go bless some one, and honestly it will bless you. Love you all my friends, have a wonderful day in serving him.
Have a safe and very blessed weekend too, below is a recipe that sounds real yummy too, just for you my friends.
Brownie Bites with Magic Frosting
INGREDIENTS
3/4 cup Hersey's Cocoa
2/3 cup vegetable oil
2 cups sugar
4 eggs
2 teaspoons vanilla extract
1-1/4 cups all-purpose flour
1 teaspoon baking powder
1/2 teaspoon salt
1-2/3 cups (10-oz. pkg.) REESE'S Peanut Butter Chips or 1-2/3 cups HERSHEY'S Premier White Chips, divided
DIRECTIONS
1. Heat oven to 350°F. Place about 40 foil baking cups (2-inches in diameter) on cookie sheets.
2. Stir together cocoa and oil in large bowl until smooth; stir in sugar. Beat in eggs and vanilla; stir in flour, baking powder and salt. Stir in 1 cup peanut butter chips, reserving remaining 2/3 cup for frosting. Drop mixture by rounded tablespoonfuls into baking cups.
3. Bake 15 to 18 minutes or just until set and small cracks appear on surface. Remove from oven; immediately place about 6 reserved peanut butter chips on center of each brownie. Let stand several minutes to soften; swirl melted chips with knife or spatula. Garnish with pecan half, if desired. About 3 dozen brownies.