♥

FRIENDLY FRIDAY

♥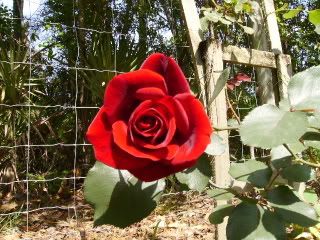 Here is a sweet red rose from my garden for all you my dear friends, I hope this day finds you well.
I am recouping from yesterday, my knee is not hurting but my other leg is, lol guess I favored it too much yesterday trying not of step on the right leg, oh well praise God, It will pass, and It will get better.
♥

In Tune With Each Other, My Friend

♥
There is nothing better than sharing with a friend, if you have a good friend you can laugh with, cry with, pray with you have a good thing. Hold them close to your heart daily in Prayer, it is impossible to have a friend and not pray for her, and if you are not praying for her, shame on you. Those we love we pray for, make a point each day to pray for your family, your friends, and especially those you do not like, lets let all malice be put far from us, and let us hold each other high above our self. Talk is cheap, action is where it is, go now and send some one a card, call some one, and just say a prayer for all your friends, and know they are praying for you. It only takes a couple minutes to pray, or write or send a card. Hugs and I consider you all my friends, and I DO pray for you daily. Lots of love on this Friendly Friday. Have a very blessed weekend too. Start praying now for your church services Sunday, God will do great and mighty things when we pray.