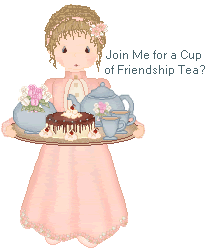 Well it is our Friendship Friday again, I welcome you to my blog, if we are nothing else we certainly are friendly. I love my new friends I have made since opening this blog, and to all my friends I had before from various sites, welcome, come sit a spell with me, and lets laugh, and sip some tea together. What kind of tea do you like best? I have a friend that love the Chai tea, I love the Raspberry tea myself, so what ever your favorite is, sip with me on this Friday, take a break from what ever you are doing, and just relax, and think about your friendships.
In God's word he has things to say about friends too; Proverbs 18:24 "A man that hath friends must shew himself friendly: and there is a friend that sticketh closer than a brother.
We must be friendly, we must entertain others, and see the importance of them, we must look past our own selfish needs and look to the needs of others, one verse says that "A friend loveth at all times, and a brother is born for adversity." Proverbs 17:17 I have made some life long friends that started out with me helping them in small way, when others help us, we have a bond with them, and we see a inner love in them, that gives us a tendency to want to be near them, to be friends with them. So never take it lightly when you need help, or when you help others.
Now my favorite verse, is found in John 15:13 "Greater love hath no man than this, that a man lay down his life for his friends." I love that verse, and oh to be like Jesus, I know I fall so short, and my list is very short who I would lay down my life for, but he laid his life down for us, for man in general, with only one stipulation, that we trust in him, accept him, oh friend if you have never trusted Jesus as your Saviour, let today be the day, open your heart to him, and ask him to come in and be your friend, your love, your life, your saviour...
Now my friends, I ask that you show yourself friendly, send an E-card or a thinking of you card to some one you know, there is someone in need, I am sure you know some one like this, some one who just needs to know you care, and you are thinking of them.
Have a wonderful Friday, and weekend, God bless you real good.