Hi, hope you all have a wonderful day on this special tastey Tuesday, I like to post something to eat that is really good for this day, and thought I would share it with you today. Do you have any special plans today? What will you have for dinner tonight? Hope you have a great day, and please copy this recipe to your book, it is so good.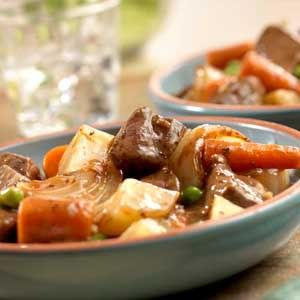 Slow Cooker Hearty Beef Stew
Ingredients:
1 1/2 pounds beef for stew, cut into 1-inch pieces
Ground black pepper
1/4 cup all-purpose flour
1 tablespoon vegetable oil
1 pounds medium potatoes, cut into cubes (about 3 cups)
4 medium carrots, sliced (about 2 cups)
2 medium onions, cut into wedges
4 cloves garlic, minced
3 1/4 cups Swanson® Beef Stock
1 tablespoon Worcestershire sauce
1 teaspoon dried thyme leaves, crushed
1 bay leaf
1 cup thawed frozen peas
Directions:
Season the beef with black pepper. Coat the beef with 2 tablespoons of the flour. Heat the oil in a 10-inch skillet over medium-high heat. Add the beef in 2 batches and cook until it's well browned, stirring often.
Place the potatoes, carrots, onions and garlic into a 5-quart slow cooker. Top with the beef. Add 3 cups of the stock, Worcestershire, thyme and bay leaf.
Cover and cook on *LOW for 10 to 11 hours* or until the beef is fork-tender. Remove and discard the bay leaf.
Stir the remaining flour and stock in a small bowl until the mixture is smooth. Stir the flour mixture and peas in the cooker. Increase the heat to HIGH. Cover and cook for 15 minutes or until the mixture boils and thickens.
*Or on HIGH 5 to 6 hours*
Serving suggestion: Serve with buttermilk biscuits and tossed salad topped with Ranch dressing.