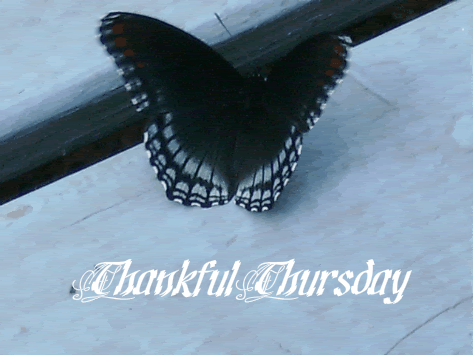 Well praise God, I am thankful for this wonderful photo I was able to get yesterday, I looked out my front door, and this gorgeous butterfly was fluttering around, he finally lit and was still, I had camera in hand and clicked, for onceit was handy. I missed a good shot of our woodpecker the other day not having my camera handy. I love the wildlife, and photo it every chance I do get.
I am so thankful for all the beauty that God has given us, he paid such detail to every one of his creations, it is just so beautiful, no artist can ever copy the beauty God has put in it. I have seen many paintings, and yet they just cannot get that perfect object like God did. He give it all for us to see, and to enjoy, I am so very thankful for eyes to see all this wonderful beauty, I remember a time I looked through a cloudy lens, and it all was fuzzy, and blurred, but thank God I am have wonderful vision now, and can see every little detail. I am so thankful for that day he died on the cross for me, he fulfilled every jot and tittle the Father ask of him, What wonderful obedience he has, if only we would obey God as Christ did, just give him our all, and let him lead our days, and live for him. Not worrying about what others may think, or do, but just doing as God ask. He loved me so much he prepared a place in heaven for me to go to when I die. I love John chapter 14, the whole chapter, I am not going to write it all out, but when you have time, ponder on this chapter, and see just how much Jesus really loves us. He sure deserves our thanks and our praise, I give him my praise today, and everyday as along as I may live.
Have a wonderful Thankful Thursday, and share with us what you are thankful for.
Hugs and prayers, Barbara