Wonderful Wednesday
Feeding the Soul
"Moreover as for me, God forbid that I should sin against the Lord in ceasing to pray for you: but I will teach you the good and the right way." (1 Samuel 12:23)
Samuel's great heart, both for the Lord and for His people, is revealed in the promise of our text. Although he was hurt and disappointed, because he had led them successfully and justly his whole life, he would still pray for them and teach them. This is a great example for Christian leaders or workers today who, through no fault of their own, have been replaced by someone else.
Intercessory prayer is not easy, especially if our prayers are not appreciated by those we pray for. Nevertheless, it is a type of prayer ministry that especially pleases the Lord, and that is more important than human gratitude. "I exhort therefore" said Paul (no doubt reflecting God's own desires), "that, first of all, supplications, prayers, intercessions, and giving of thanks, be made for all men; For kings, and for all that are in authority . . ." (1 Timothy 2:1-2). Paul would even urge prayer for the emperor, Nero, who had imprisoned him and would eventually have him put to death.
Even Jesus had said that we should "pray for them which despitefully use you, and persecute you" (Matthew 5:44). The Lord Jesus is the greatest intercessor of all. For when we sin (and all sin is sin against the Lord), He is our "advocate with the Father" (1 John 2:1), and in fact, "he ever liveth to make intercession for them" (Hebrews 7:25). Therefore, should we not also be prayer intercessors?
Feeding the Body
Krystal's Hamburgers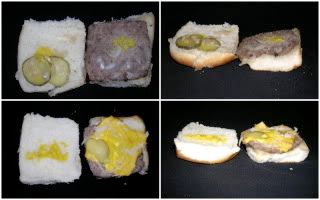 2 lb. Lean Ground Beef
1/4 cup Dry Minced Onion
1/4 cup Hot Water
3 oz. Jar Strained Beef Baby Food
2/3 cup Clear Beef Broth
1 pk. Hot Dog Buns
Soak 1/4 cup dry minced onions in 1/4 cup hot water until soft while you
mix 2 pounds ground beef with 3 ounce jar of strained beef baby food and
2/3 cup clear beef broth. Keep patties uniform using
1/4 cup meat mixture
for each patty, flattened to 1/4" and fried quickly in 1 T oil per patty on
a hot griddle. Make 3 or 4 holes in patties while frying. Cut hot dog buns
in half. Cut off rounded ends. Fry 1 t onions under each patty as you turn
to fry 2nd side. Slip each patty into bun with 2 dill pickle chips, mustard
and catsup. YumYum so good