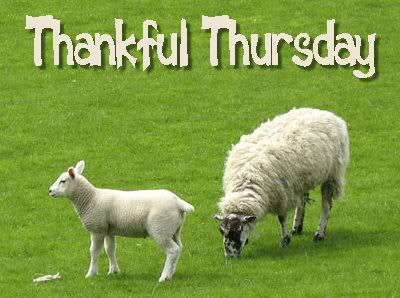 I was thinking about what I am thankful for, and then seen this graphic, and I thought well first and foremost I am thankful for the loving Shepherd who found me, and made me his own, now I can say I am his, without hesitation, or thinking, I love my precious Shepherd, and I so want to be pleasing to him. I do not want to wander off to any other pasture, and I do not want to have him use the rod on me, or to break my legs, now that is a stretch, but the true Shepherd does at times need to do that, to his sheep, those are they that wander off and just will not stay close by the Shepherd, I want to be in the arms of the Shepherd, and let him care for me, to feed me, to clothe me, to lead me to green pastures, and sweet still water, oh yes I love where the Shepherd takes me, and may I always and forever follow him, and one day I will follow him right into heaven, where the truest green pastures are, and that is my hope, and what a wonderful experience to look forward to. I so hope the upper taker comes and gets me, and not the undertaker, I am waiting for the Rapture of the church, and hope it is while I am still living, that is my earnest hope, is it your hope, if you have never accepted that free gift of salvation I beg you let today be the day of salvation, let today be the first day of the rest of your life.
Luke 15:6 And when he cometh home, he calleth together his friends and neighbours, saying unto them, Rejoice with me; for I have found my sheep which was lost.
Now I can almost hear the excitement of his voice when he stated this, can you?
John 10:14 I am the good shepherd, and know my sheep, and am known of mine.
John 10:27 My sheep hear my voice, and I know them, and they follow me:
Yes Praise God, I do know his voice and I am thankful for that; I cannot imagine not talking to my Jesus, or being able to hear him, I do love his direction, I love his written word, and when I get fluttered and flittered, I am happy he is there to lead me, to correct me and to call me his sheep. Have a Teriffic Thankful Thursday, and be blessed.