Country Roads, yep this is my road out front of our house, they had just built it up some after we had a heavy rain storm and it washed mostly away, there have been times when we could not get out of our drive way the water was rushing in so fast, but road department has worked very hard in the past ten years to take care of that problem, it is pretty smooth most of the time now, except right after a hard rain, and then it tends to be pretty bumpy. But all in all I love my dirt road, there is hardly any traffic on it, and the quiet surroundings is just wonderful in this day and time, when every thing is moving so fast all around us. I think I would like for them to pave the road, then I think all that would bring too, and I am thinking the way it is should stay...
There is nothing like a laid back Saturday, just enjoying the sounds, the smells and the sights of the day, nothing compares to the creek flowing, and the water slapping the sticks and rocks as it moves quickly down stream. Even Goldie our big dog loves standing and watching the water, and it comes between her and her pond some times, lol she is a Golden Retriever and love the water, not in the creek so much, but in the pond just up the hill and the when the creek is moving fast she stays on this side of it.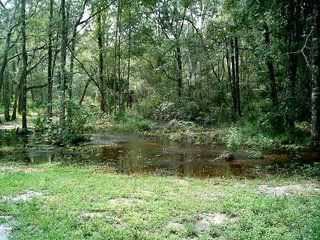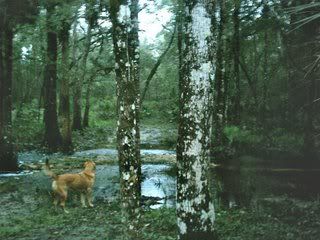 So for now I will stay in the woods, love the serenity it brings, I have much time to be alone with God, and all his creation, what a wonderful thing to be able to look around me and know my God has created all this just for me to enjoy. What a wonderful God we serve, and to know we that are saved will be with him forever through out eternity.
John 1:1 "In the beginning was the Word, and the Word was with God, and the Word was God".
John 1:2 "The same was in the beginning with God".
So for this Simple Joys Saturday, good day, and God bless you real good, have a wonderful worship service tomorrow in your church. Lots of hugs for your day and,