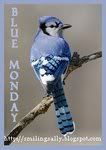 ♥Blue Monday♥
Do visit
Smiling Sally
to see what others have been up to!
Join with me, and see our Blue Monday photos..I was looking through my cupboards and found these few treasures I can post for Blue Monday, so hope you enjoy them, and maybe you will join us in posting some blue Monday things also.
This is an old Soup Pot, and a Platter my husband found in some junk he picked up in a Grapple truck, so Icleaned it up and kept it, I really love it, and after loosing all my antiques in the fire it was special to have something older again, not sure how old it is, or if it is even that old, the bottom has some funny writting on it.
Ponce Puerto Rico
So tell me, are you having a great Blue Monday? If not look up, is Jesus still on the throne? Well then it sure is a Wonderful day isn't it, no matter how bad things get in this world, God is able to care for us, and we have his written promises to console us in a time of need, now lets stop and take a deep breath, and let God talk to you, then ask him for his help in all you do today, in all you must face today, and with all you will attempt to do for him, his grace is sufficient indeed, proven, tested, and banked on..