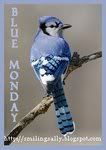 Linking up with
Sally
this week.
Many do this and it is fun to see what we can come up with that is Blue, I enjoy doing this, and some others do too, I know
Jan
over at 50+ is doing Blue Monday too.
This is my younger brother Danny on his fishing trip to Porto Rica, now we have
been there, and the water is blue blue, nothing could be more fitting for our Blue
Monday photo than this one, he sure caught some big fish too. I am Proud of my little
brother.
join up with us and do the Blue monday too, it is fun and we see lots of blogs in the process, meeting new bloggers all the time, and making friends for life, God bless you all on this special Blue Monday.