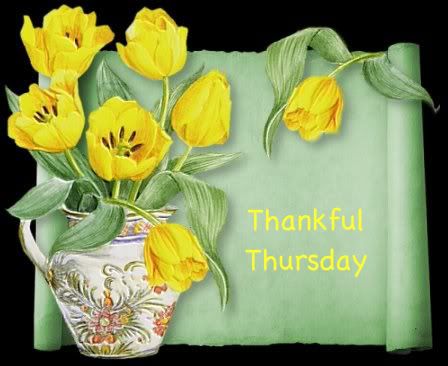 Well I am thankful I am able to be here, and not in a hospital some where. So many are ill and in the hospital or down in bed. I praise God for being okay now.
I thank God for my salvation, always, and forever. I have never been the same, and I will forever be thankful for the lord saving my soul.
I thank God for my wonderful family, my 5 healthy children and 11 healthy grandchildren, and now 8 great grandchildren, wow God has been good to me, and to all of our family.
Psalm 127:5 "Happy is the man that hath his quiver full of them": they shall not be ashamed, but they shall speak with the enemies in the gate.
I am happy, and our quiver is plum full, praise God for his goodness upon us, and for his daily provision for us, thank you my father in heaven, and keep a hand upon us all, draw us to your side, and keep us strong and planted in the lord. Thank you Jesus for making it all possible. This all reminds me of this song:
(Thank you Lord for Saving my Soul)
Some thank the Lord for friends and home
For mercies sure and sweet
But I would praise Him for his grace
In prayer I would repeat
Refrain:
Thank you, Lord, for saving my soul
Thank you, Lord, for making me whole
Thank you, Lord, for giving to me
Thy great salvation so rich and free
Some thank Him for the flow'rs that grow
Some for the stars that shine
My heart is filled with joy and praise
Because I know He's mine
I trust in Him from day to day
I prove His saving grace
I'll sing this song of praise to Him
Until I see His face