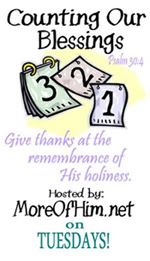 Joining in here with Julie for Counting our Blessings
I have so much to be thankful for, I do not even know where to start, how about
with the state I live in, this is a photo of one of the streets in Folkston, Georgia, it
is just beautiful. We have such wonderful weather here,
it is in the mid 80's today,
I see some others still have snow, and I am reassured of the blessings that I have
here where I live.
I am in good health, most part, I have a wonderful and loving Godly husband, and we go to a wonderful church, that is preaching the whole counsel of God, not leaving anything out, or adding anything to the scriptures.
I have a great family in Florida, and Georgia, and all are healthy, for the most part.
We have 4 living generations that seem to grow each month, for that I am thankful.
God just keeps adding to our blessings, he keeps us looking to him, he keeps us in touch with him daily through our reading his word, and praying to him, Father thank
you for loving me, and for all the blessings you have given.
This photo below is the sun going down, what we see from our front porch where we live, I have several photos at different times of it setting, but love this one.
As the sun sets in Georgia, I think of how good God has been to me, and much
that I take for granted all the blessings that he bestows upon me. I love the lord
and I love to proclaim his goodness where ever I am,
and wherever I go.
Have a very blessed Tuesday, and thank God for his goodness today. Be blessed, Barbara