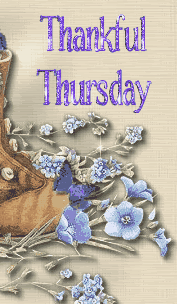 I have so very much to be thankful for. I have been in terrible pain all week, it is lessening now, and I think I am thankful for the leg that is hurting, some others do not have a leg to hurt. Instead of complaining I want to praise God for feeling, for the pain, and for having the leg to hurt. I could be in such terrible shape now, but God has been good to me, he keeps me going, and he keeps me content. Only our Heavenly Father can do this. I give him the glory for all the things he is so wonderful in providing for me.
I have met so many new friends lately, and I am thankful for each of them, and what they have brought into my life. Everyone we meet gives us something different, and all those friends always give what we need, when we need it. Our gracious father sends the exact ones we need. Now my Saviour is still the best friend I have, and he always will be number one. I am thankful for you my sweet Jesus, that you loved me so much to die for me, and that you just keep giving and giving and giving, and I will forever and eternally be grateful for that. God bless you on this Thankful Thursday, give him the thanks and the praise he deserves. Have a wonderful day, and know you have a friend in Jesus.
A Little Healty Treat for you this Thursday, From Lisa at "Here's To A Healthier Lifestyle!"
Homemade Granola Bars
1/4 cup quick-cooking oats
1/4 cup whole wheat pastry or unbleached flour
1/4 cup wheat germ
2 tbs. flax seed flakes
1/2 teaspoon ground cinnamon
1/4 cup plus 2 tablesppons honey
1/3 cup chopped dried cherries, cranberries or apricots
Directions:
Combine the oats, flour, wheat germ, and cinnamon,
stir to mix well. Add the honey, stir until the mixture is moist
and crumbly. Fold in the raisins or other fruits. Coat an 8-inch square pan with nonstick cooking spray. Pat the mixture into the pan, and bake at 300°F for 18 to 20 minutes, or until lightly
browned. Cool to room temperature, cut into bars, and serve.
You can add some nuts or chocolate chips to these too.