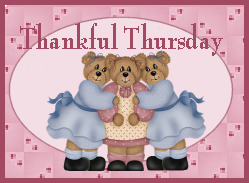 SHOWERS OF BLESSINGS
"And I will make them and the places round about my hill a blessing; and I will cause the shower to come down in his season; there shall be showers of blessing." (Ezekiel 34:26)
I just love blessings, don't you, and I always want them to come down in showers, not in spurts or in drops but in showers, I love it when God rains down blessings on me. This verse provided the inspiration for the old gospel hymn "Showers of Blessing." While it applies specifically to Israel, it states a divine principle which believers of all times have rightly appropriated to their own lives. The same word ("showers") is also frequently translated "rain," speaking of the rain which followed Elijah's contest with the prophets of Baal at the end of the three-year drought. "And Elijah said unto Ahab, Get thee up, eat and drink; for there is a sound of abundance of rain" (1 Kings 18:41).
I count my friends the greatest blessings God has ever given, in my years of life, I have seen many blessings in all shapes and forms. Some I have since Grade school, some more recent. We just cannot go without friends, they are a need for the human spirit.
I remember one time when we were first married, we had this old car that always broke down, well it always seemed to break down at a light, I would slow and stop for a red light, and then the car would not start again, but God always had someone there to help, in our darkest moments he always sends a light.
Today is Thankful Thursday, how many things can you say you are thankful for? WOW I can think of so many right off the top of my head I could not write them all down.
But today I am thankful for my friends, I have several really good friends, that are always there, they always pray for me, and I know I can count on them, I say that is one shower of blessings indeed. If you have one good friend you can trust it is a blessing, but to have several, that is from God.
I am going today to have an injection of Steroids put in a Cyst behind my knee, I have been fighting this painful battle for weeks now, and finally know what the culprit is that is causing all my pain. So if you would pray for me, and that this pain will go away, the shot will shrink the cyst and I can get on with my every day living, and doing all the things I love doing. I am so thankful that God is with me every way, and that he has gotten through this time of pain and I can still say, I trust in you Lord, and I know you have my life, my health all of me in your mighty hands, and can care for me so much better than anyone else. Thank you Lord.