TASTY TUESDAY
Well it is Tasty Tuesday, and I normally post a good yummy recipe, I may later in this post, but wanted to share my Lily with you it has 3 blooms on that stalk now, with others popping out, so pretty, I am excited to see how many it will end up with, hoping some of the other plants will bloom like this on, but no sign of that happening yet. Here Is the Bloom today.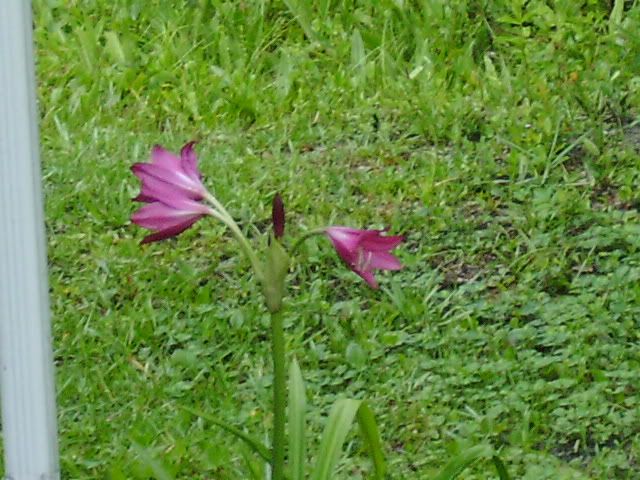 One of my hens Esther, keeps getting out, and yesteday I found out where she has been going...
She has been going in the shed, where I keep the hay, and laying her eggs in there, here is a photo
of them, just remarkable how chickens find things, and odd places they lay their eggs. I am not sure they will be good, not even sure how old they are, I am really thinking it was this week though.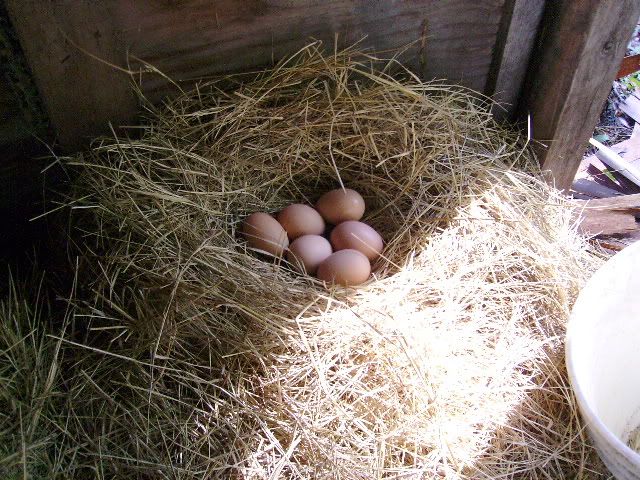 Okay now for the recipe for Tuesday, it is one of my favorites, and most all folks love this.
Bowtie Pizza
1 1/2 to 2 cups cooked bowtie pasta
2 eggs, beaten
2/3 cup milk
1 teaspoon salt
1/4 teaspoon pepper
1/2 cup pasta or pizza sauce
1/2 pound cooked Italian sausage or pepperoni slices
1 cup shredded mozzarella cheese
Directions: Whisk together eggs, milk, salt and pepper. Add cooked pasta to egg mixture and stir to coat. Pour into pie dish sprayed with Pam or buttered. Bake at 400 degrees for 20 to 25 minutes. Spread pasta sauce over baked pasta, then sprinkle sausage or pepperoni slices on top. Top with cheese. Return to oven for 10 minutes. Let cool, then slice and serve
My friend sent me this today in an email, hope you enjoy, so very much truth in it.
The Weaver
My life is just a weaving
Between my Lord and me.
I cannot choose the colors
He weaves so skillfully.
Sometimes He weaveth sorrow
And I in foolish pride
Forget He sees the upper
And I the underside.
Not 'til the loom is silent
And the shuttles cease to fly
Will God unroll the canvas
And explain the reasons why-
The dark threads are as needful,
In The Weaver's skillful hands
As the threads of gold and silver
In the pattern He has planned.
~B.M. Franklin~