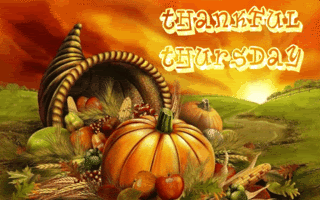 Well if anyone had a lot to be thankful for it sure is me, the lord has touched me seen me through this rough operation and has set me standing up again, now that is a alone enough to be overly thankful for.
But he saved me, he made me whole, he changed my life, and give me a new out look on life, put new words in my mouth, and new song in my heart, oh thank you lord for the change you did in my life.
I am leaving in a few minutes to go to Waycross to see my Rheumatologist, long way, and I know I will need the strength of the lord to get there and back, I still get very tired very easily, and I still am not eating very much, now that is a good thing, I have lost 13 pounds so happy for that. I would appreciate your prayers for me today, and daily if you think of it, love you all very much my precious blogging friends, I will be happy when I can resume and start visiting your blogs again, I miss seeing
what Y'all have to say, so bye for now, hugs my friends.
So tell me now, what are you thankful for on this Thankful Thursday?
Enter into his gates with thanksgiving, and into his courts with praise: be

thankful

unto him, and bless his name.
Psalm 100:4