Old-fashioned giblet dressing
Ingredients:
1/4 cup finely chopped celery
8 cups dry bread crumbs (about 14 slices of bread)
1 teaspoon seasoned salt or celery salt
1 teaspoon poultry seasoning

PreparationIn saucepan, combine giblets (not the liver) and enough water to cover and salt. Cover and simmer for about 2 hours, until tender. Add liver; cover and simmer for 25 minutes longer. Cool giblets and broth slightly. Remove and chop giblets; set aside and reserve 1 cup of the broth.
Melt butter in a skillet over medium low heat; cook onion and celery until tender; combine with bread crumbs, chopped giblets, seasoned salt, poultry seasoning, and pepper. Add reserved broth, tossing lightly to moisten. Spoon into a buttered 2-quart baking dish. Cover tightly and bake at 350° for 40 to 45 minutes. May also be cooked the bird - stuffs a 10 to 12 pound turkey. I stuffed my bird, it seems the stuffing tastes so much better, I really clean the cavity good, and put lots of salt in the cavity too, then rinse again then stuff.
Buttery Sweet Potato Casserole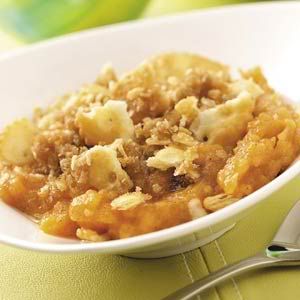 Ingredients
2 cans (15-3/4 ounces each) sweet potatoes, drained and mashed
1/2 teaspoon ground cinnamon
TOPPING:
1 cup coarsely crushed butter-flavored crackers (about 25 crackers)
1/2 cup packed brown sugar
Directions
In a large bowl, combine the first six ingredients. Transfer to a greased 8-in. square baking dish. Combine the topping ingredients; sprinkle over sweet potato mixture.
Bake, uncovered, at 350° for 20-25 minutes or until a thermometer reads 160°. Yield: 6-8 servings.