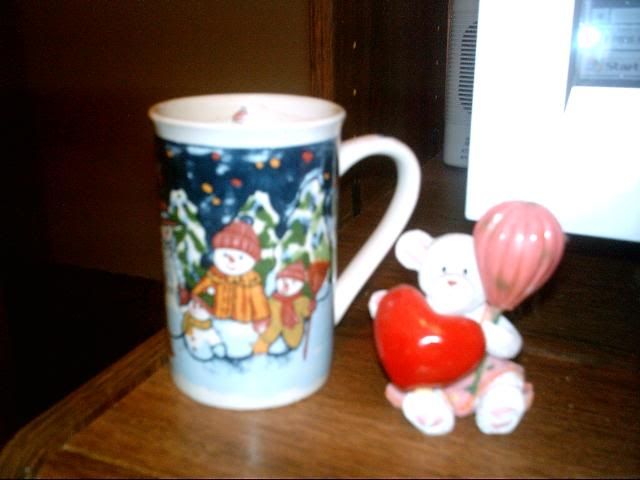 My Comings and Goings Giggles:
Just sipping Coffee from my wonderful snow man mug, I do love this time of year. So Good Morning on this bitter cold day from Georgia, I do not remember it ever being this cold this late in the morning, I am happy I am inside til it warms up for sure.
We had a wonderful day in the lord, the little church is growing, we had some more visitors and I had 7 children in my SS class, I loved it, I am telling the Christmas story starting in Luke 1 til through Christmas and we will close with The Christmas play with the kids, just a simple reading of the word and the children singing the Christmas hymns that apply to that story. It will be fun for them, and with such a short time I could never put together anything very much. But I really enjoyed working with the kids too.
A couple took us out to lunch to Cracker Barrel and that was a good time of fellowship and getting to know them, they are a delightful couple who really want to serve the lord, and not afraid of work, they have gotten our Nursery all fixed up, including new flooring in it, then the Pastor's office ready for him, including a nice Computer installed, WOW they have been so busy ,and love it, it thrills my heart to see folks on fire for Christ.
I have lots of running today, and I sure am not up to it, my right knee is still hurting very bad, I will have to have something done with that Cyst soon I am afraid, but for now I just grin and bear it.