Broccoli Rice Pilaf
1/4 cup margarine
1 10 oz or about, frozen broccoli, thawed
1 small onion chopped
1 cup fat free reduced sodium chicken broth
1 cup uncooked instant rice
1 clove garlic, chopped
Melt margarine in 10-inch nonstick skillet over medium heat
and cook onion, stirring occasionally, until crisp-tender, about
3 minutes. Stir in rice and garlic and cook, stirring frequently,
for about 1 min. Stir in broccoli and broth. Bring to a boil
over high heat. Reduce to medium and cook covered, stirring
occasionally until rice is tender and liquid is absorbed, approx 5 minutes.
This is so very good, an make a side dish of Pork Spare Ribs to go with it.
Nothing better on a nice day, and a wonderful melt in your mouth cake for
dessert: Now cook, bake, and eat with a smile, have a very blessed day.
Chocolate Heaven Cake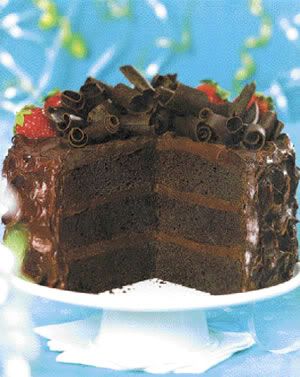 Ingredients
For the cake:
3 cups cake flour (not self-rising)
1 teaspoon salt
1 ½ teaspoons baking soda
4 cups sugar
1 cup sour cream, at room temperature
4 large eggs, at room temperature
1 cup oil
9 ounces unsweetened chocolate
1 tablespoon vanilla extract
2 cups strong, fresh brewed coffee
For the frosting:
3 sticks unsalted Butter at room temperature
2 tablespoons milk
1 teaspoons vanilla
9 ounces melted semi sweet chocolate
2 1/2 to 3 cups sifted confectioners sugar
Directions
For the cake:
Preheat oven to 325 degrees. Grease bottom and sides of three 9" cake pans.
In a large mixing bowl combine flour, sugar, baking soda and salt.
In a medium bowl place chocolate and pour hot coffee and vanilla.
Let stand about 2 minutes to melt the chocolate then stir until smooth.
ln another bowl whisk together eggs and oil until well blended and light in color. Whisk in sour cream, then melted chocolate mixture.
Add chocolate sour cream mixture to dry ingredients and mix on low speed while gradually adding in thirds. Mix until just until incorporated scraping down the sides of the bowl as needed. Fill prepared pans two thirds full. Bake cakes 40-55 minutes until a toothpick inserted comes out clean. Let cool then decorate as desired.
For the frosting:
Mix butter and milk until smooth and creamy.
Add vanilla just until incorporated.
Add melted chocolate until completely mixed.
Gradually add sugar until you reach the consistency of frosting.