Sadly Sharing It Saturday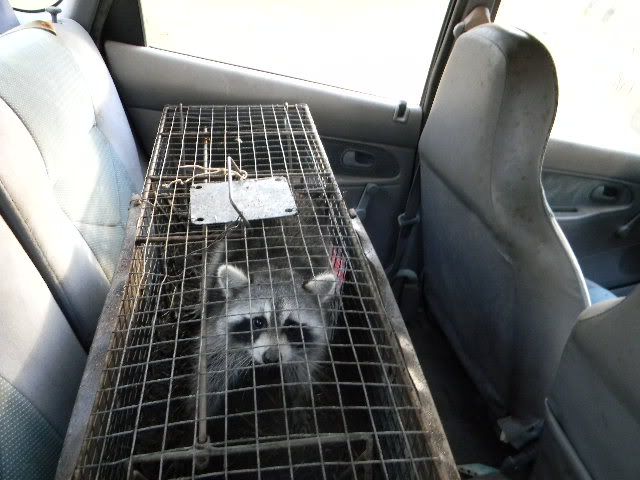 We have been fighting a critter for days now, he got into the chicken coop two days ago, killed my Esther, and pulled lots of feathers out of the other hens, we got a foot trap, that did not work, this critter got the meat out of it, and never tripped the trap, so Chuck went and borrowed a live cage trap from a friend, this is what we captured last night.
Chuck is taking him over to Joe's, they eat them; eek...
at any rate, he gone and I sure hope no others are out there, Chuck will bring the cage back though so if there is we will trap them too. Nothing worse than critters that bother your live stock, we thought it was a opossum, but turned out to be this Raccoon. They look cute, but they are deadly and would chew you up in a second. Hissed when you got near him, I am so glad he did not get to all my hens, broke my heart loosing Esther, you remember I took some photos of her the other day, just striking a pose, she was so dear, come right and eat corn out of my hand. She will be missed.
So that is my sad sharing for today.
But on a happier note, tomorrow is Sunday, praise God, my dear husband is preaching tomorrow in Jacksonville, FL, keep us in your prayers please, that God will fill him with power, and clarity of speech, and that he will preach with boldness. Pray for traveling mercy for us too.
God bless you real good today and always, Barbara ♥