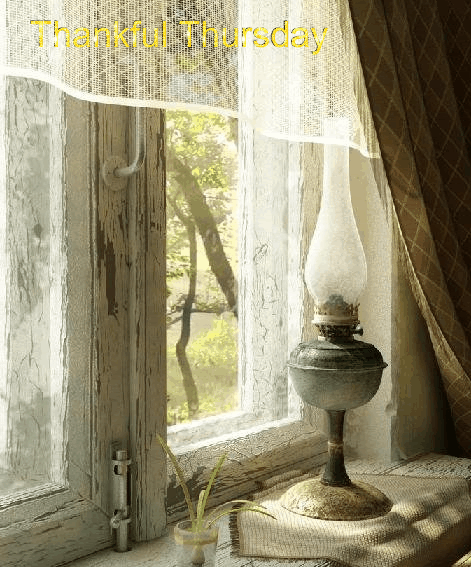 Looking at this old photo, I am thankful for electricity today, back when this photo was taken they lived with oil lamps for lighting, not just a switch to turn on, or a night light for getting up in the night, but an ole stinky oil lamp. Now I do have several for when we loose power, filled with the lamp oil and ready for use always.
Here we never know about power, It would go out at various times, even in good weather, really frustrating, although I must say it is much better these days than when we first moved here, (15 years ago) they must of did some improvements. So I am definitely thankful for our electric power. Nothing like coming into a dark house at night and flipping a switch for instant light. We live in the woods and in the Country it is very dark at night. We leave our running lights on the back porch on, so when we come home after dark we can see to put the key in the door, lol it looks like the Love Boat, (anyone remember that show?) all lit up, you can see it through the woods coming down our road. I often wonder what some may think when they see these light through the woods, the ones who do not know us.
I am thankful that I am feeling better these days, I was sick for so long, and now it feels good to feel good. I just am praising God for his mercy on me, and healing my illness.
I am mostly thankful for my salvation, that I can live a good and honest life through Jesus Christ my lord, that he keeps me, and one day I will meet him face to face. Oh glory what a day that will be. This makes me think of this little verse we learned a long time ago. ▼
Let your Love flow through me,
Let your Love flow through me,
Make me a blessing Lord,
Where ever I may be;
Keep me pure, Keep me clean,
So as you may be seen,
Let your Love, Let your Love flow through me.
Okay now tell me, what are you thankful for ladies?
We all have so very much to thank the dear Lord for.
Have a Very Blessed Day, and Be a Blessing.