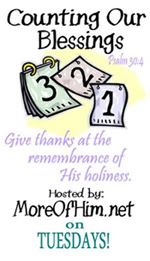 I am linking up with Julie at More of Him, for this Count Our Blessings.
I have so many blessings it is hard to start to thank God whom all blessings come from, but I sure will do my best.
1. I thank God for my resurrected Saviour who hung on the cross to pay for the sin debt that I owed, and was able to save my soul from a Devil's hell.
2. I am so thankful for a loving husband who takes care of me, and has for almost 51 years.
3. I am thankful for a wonderful family who loves me unconditionally, and thinks I
am pretty special.
4. I am also thankful for all the dear women I have met in the blogging world, that I
have learned to respect and love.
5. I have 11 grandchildren I love dearly, that are all healthy, and 8 great grand children that are all healthy also. That is such a blessing to have such a big family, after growing up as an only child, this big family is indeed a blessing to me.
6. I am thankful for the Bible, that I live in a Country that I can read it daily or when ever I feel the need, I thank God for writing his word down so I can apply it to my heart.
7. I am blessed by living in a free Country, that we are still able to choose what church we attend, read our bible, and to vote on election day, that is an honor and one I do not take lightly.
8. I am totally blessed by where I live, it is remote, and never any problems here as in the cities close by. I have forgotten to lock my door at night, or left the key in the door, and never had one problem in 15 years of living here.
9. I am thankful for the talents God has given me, of singing his praises, and teaching his word to others.
10. I am blessed to be able to have a computer, and to reach out all over the world to many who may never hear the gospel of Jesus Christ, it is a blessing to reach others for Christ.
You know I could go on, and on, my blessings never end, daily I have something new that blesses my heart, but I will quit now for this blessing statement, and say have a very blessed Tuesday, and do be a blessing where ever you may go. Bye Bye For now.