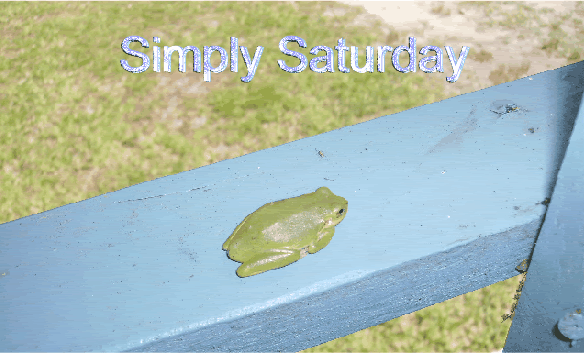 I have been reminiscing, and thinking of simpler times, I can remember living on a dirt road, (giggles well I still live on a dirt road but they are far and few between now a days). I would walk uptown, go to the drugstore and get a soda, or a malt, or just sit and wait to see a friend come in, I never thought about being abducted, or molested, such a simple time it was, now I am afraid to walk alone down my street even, we never had any trouble out here, but, one cannot be too careful, I keep my doors locked even when we are home, I always say, "I don't want any surprises" Chuck laughs and says, once they see you they would leave in a hurry, I keep a big rifle beside my back door, more for critters on 4 legs than any on 2 legs, lol. Not sure I could actually pull the trigger even if I had to.
Shooting critters and shooting a live human are sure two different things, some do not think twice before acting, but I sure would think many times, but the point being, one never can be too careful these days, back when we did not even lock our doors, the screen door would be open and never a lock on it.
It seems there is always some one prowling about wanting to steal what a man has worked so hard for, that is sad, and they have no better training than to take a mans belongings and have no respect for the other persons things. What has happened?
Well Praise God a day will come, when we will live in houses with out locks, the Lion will lay down with the lamb, and there shall be no fear of any man, for any reason. Jesus will be our leader, and he will have the whole millennium in submission, for a season. Read Isa 11 and Rev
20 these chapters really explain it well. It gives us such hope, and such promise.
I am waiting patiently for that day to come, when all things will be perfect once again, and like in the garden of Eden before the fall of man. Sin, yep that is what makes everyone fear, and that is what makes those who steal, steal, and those who kill, kill, sin, it is a ugly word, and I will be glad to be in that new kingdom where no sin will be, and we will all be just like Christ.
We need start practicing today, let us live a holy and sin free life, if we kept Christ first in all we do, and thought of nothing but him, and all he has prepared for us we could live a sin free life, he give us the way through the Holy Spirit to do that, but we do not depend on him the way we should, and most days we live a life filled with sin, (that which is not faith is sin) and filled with not trusting God for our very breath. Well I have rattled on long enough, my point, lets get back to the basics, lets look at our surroundings, and see all the beauty God has created for us to have dominion over, lets look to Christ for all our help, and let us serve him daily, wholeheartedly and with all our being. If we submit our all to him, we could see some wonderful changes in our life. God bless you my friend, and have a wonderful simple Saturday. Lots of Hug..